Scale Your Digital Presence
Consumer Fusion's Franchise clients know their customers aren't just looking for good reviews – they're looking for a company they can trust. You've worked hard to grow and build your reputation, and Consumer Fusion is here to protect it.
Deliver a Powerful User Experience
Powered by AI, see how Consumer Fusion can maintain your brand standard and deliver your brand reputation to the masses at scale, from a single platform. Consumer Fusion partners with Franchise Brands to put their digital presence at their fingertips, no matter now many locations they have. From negative review removals through full-pipeline social media management, our Consumer Fusion software is the perfect companion to your marketing department.
One Platform. Unlimited Locations.
Presence Management for 10 or 10,000 Locations
Paint a full picture of your digital health for your business in a single platform. Building your reputation is hard, managing it at scale is even harder.
The Consumer Fusion platform and app allows you to monitor brand health across the board, control your online listings, and brings immediate attention to locations in need, all with a single login.
Role Based Permissions for Stakeholders
Real-Time Review Monitoring
Workflow Automations & Scalability as You Grow
Schedule Your Consumer Fusion Demo
By submitting this form, you agree to receive our marketing emails and by using this site, you agree with our use of cookies. Learn more.
"For the past three years, College Hunks Hauling Junk & Moving has been proud to partner with Consumer Fusion. We rely on them to manage and protect our brand's online reputation, as well as optimize our local listings. In our industry, having a positive online presence is essential. Consumer Fusion has successfully eliminated more than 3,000 illegitimate reviews and has responded to thousands of our reviews, which has raised our brand rating from 4.6 to 4.8 and increased our Google Customer Actions by 112%. Their results speak for themselves but they are a true extension of our team and our franchisees feel their support on the local level. I highly recommend Consumer Fusion!"
– Mary Mills
Vice President of Marketing
College Hunks Hauling Junk & Moving
The Standard in Brand Standards
Build Your Local Presence Globally
Consumer Fusion has partnerships with over 50+ local directories and provides your organization with the tools to build, manage, and optimize your local search performance.
Seamlessly sync your locations with Google Business Pages, Apple Maps, Bing, and more to keep your brand in front of your customers where they are searching. From citation creation to updating, the Consumer Fusion platform keeps your listings fully optimized with accurate and actionable information that generates more traffic.
Real-Time Sync with 50+ Popular Business Directories
Listing Performance Analytics
Consistent Visibility and Accuracy
Understand Your Customers
Grow Your Bottom Line 
Deliver online results with real-time consumer feedback. The Consumer Fusion platform puts your team in front of revenue growing opportunities by monitoring customer sentiment and enabling agile responsiveness to grow your brand reputation and customer pipeline. 
Spend more time on your business by consolidating data from major review sites in the Consumer Fusion dashboard for each location. Seamlessly identify opportunities to grow brand strength by generating user-generated content through automated review requests and real-time monitoring of those reviews as they come in. 
Automated SMS and Email Review Requests
AI-Enabled Illegitimate Negative Review Identification
Shared Review Response Templates for All Locations
Grow Your Reach
Full-Funnel Social Media Management
With over 50% of customers learning about new brands on Social Media, having a consistent presence across your brand has never been more important. The Consumer Fusion platform enables your team of global and local marketers with the ability to schedule, post, and monitor social media posts on Facebook, Twitter, Instagram, LinkedIn, and more from a single management platform. 
With role based permissions, scalability is a breeze as each location will have access to the shared content library, be up to date on marketing copy and assets, and able to quickly adhere to the brand guidelines. 
Scheduled Posting & Real-Time Engagement Monitoring
In-App Shared Content Library
Global, Regional, and Local Analytics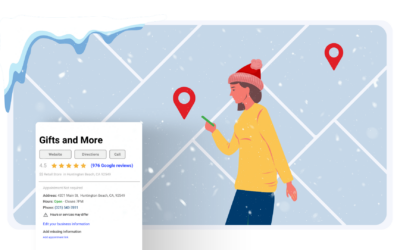 As the holiday season approaches, businesses across the nation gear up for a surge in customer traffic. However, amidst the festivities and celebrations, it's easy to forget that managing your local listings can make or break your holiday sales. At Consumer Fusion, we...
read more