Consumer Fusion for Multi-Location Businesses
Get More ROI from Your Reputation Management
A single location business can find reputation management and listing management challenging – it's no wonder it can be a Herculean effort to manage the reputation effectively for a brand with hundreds of locations operating across various regions.
Schedule Your Consumer Fusion Demo
By submitting this form, you agree to receive our marketing emails and by using this site, you agree with our use of cookies. Learn more.
Thousands of Businesses Trust Consumer Fusion as Their Reputation Management Partner
"Whenever I have any questions I email Kim Gray and she gets right back to me. I just can't say enough about Kim and the integrity of this company."
Jon Ulik
"Consumer Fusion has been such a great vendor to work with – our franchisees are so happy and we've seen real results. Highly recommend."
Erica Knapp
"The Consumer Fusion platform makes it easy for our franchisees to manage their online reputation & generate new reviews. Both Mark and Brynn have been incredibly responsive and helpful. We have had nothing but good feedback from franchisees since bringing them on as a preferred vendor!"
Crystal Shane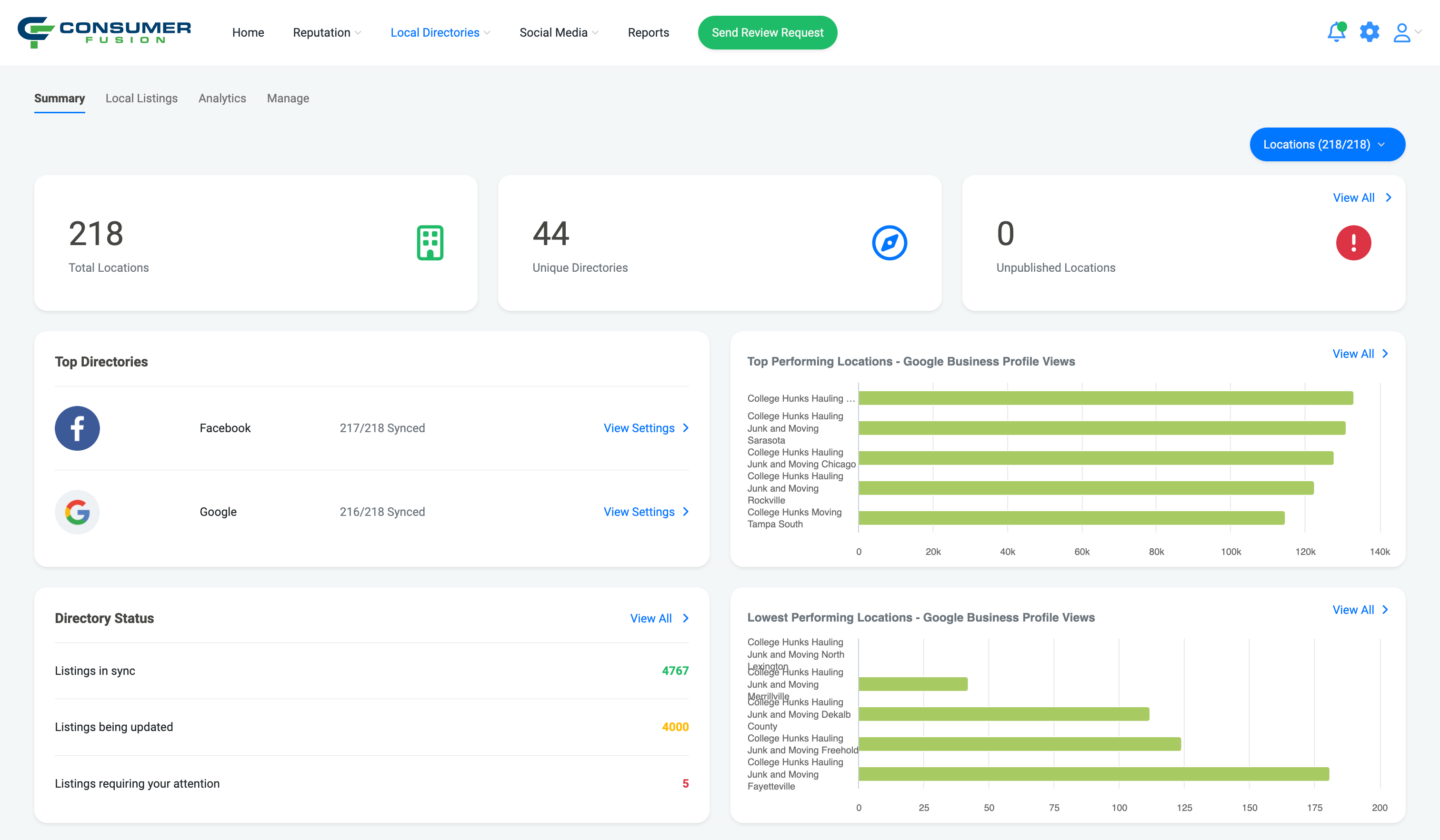 Keep Your Brand's Data Consistent
With our Local Directories program, feel confident that your brand looks consistent across all search directories. Ensure that the business name, photos, services, categories, and about sections for all of your locations are consistent online. Doing so will drastically improve the Local SEO for your brand.
Be Where Your Clients Browse
Consumer Fusion claims, manages, and keeps up-to-date the most prominent directories in your industry at scale.
Improve Local Visibility
Claim your spot in the local pack at the top of the SERPs for hyperlocal searches relevant to your industry.
Increase Your Overall Star Rating
We assist in the creation, and refreshment of your review request templates for all of your brand's locations. Start sending review requests to customers by SMS, and email from each location to add more positive online reviews and see your brand's overall star rating rise!
Manage Your Reputation at Scale
Request, monitor, and respond to reviews from your pocket with the Consumer Fusion app.
Insights to Increase Revenue
Easily identify high performers, locations that need some love, and more with a 10,000ft view of your organization.
Remove False Negative Reviews
Leveraging our proprietary AI probability scoring tool, the Negative Evaluation Widget will scan all of your negative reviews and identify those with the greatest probability of being removed successfully. Our team will then advocate on your brand's behalf with all of the relevant publishers to have the illegitimate negative reviews removed. Our team has successfully removed over 100,000 negative reviews for our clients over the years, making us a leader in the reputation management space.
Data-Driven Decision Making
Consumer Fusion's AI Driven technology identifies reviews most likely to be removed by leveraging years of insights.
Insights to Increase Revenue
Easily identify high performers, locations that need some love, and more with a 10,000ft view of your organization.
Simplify Review Responses
With Consumer Fusion, you can automate and control your brand's review responses with auto rotating templates that respond within 24hrs of a new review. Include up to 10 unique templates per rule, and dynamic fields to create personalized responses.
Review responses are a great way to include keywords and categories to improve your local search ranking.
90% of consumers read owner responses to reviews
Roll Up Reporting with Role Restrictions
As the head of the brand, you want to be able to see all of your locations' data to get a sense of how your brand is performing at the national and/or regional level, while also being able to dig in at the local level. Our roll up reporting lets you create custom reports for all locations, different regional segments, and individual locations of your brand. See how many review requests are being sent, the number of reviews that are being removed, and how your online reputation is growing as a whole!
Easily setup individual location managers to only see the locations they're associated with.
Social Media Management
The Consumer Fusion platform was built so that you can schedule & post content to all your social networks from one place. If you have multiple locations, it's easy to select the profiles from which to post.
Our content library also has thousands of curated images for you to use if you need some inspiration.
Keep track of key analytics and demographics for your Facebook, Twitter, and YouTube business pages.
With more consumers going online to shop, your SEO ranking is crucial for success. The more visible your business is online, the greater your chances of attracting and engaging with potential customers. One often-underestimated factor that can significantly enhance...
read more